Code8 - Software Delivery Platform
DevOps-ify with Ease
Making DevOps Observable, Compliant, Resilient and Efficient
Code8 is an all-in-one SaaS solution that provides everything you need to turbocharge your software delivery
Looking to turbocharge your SDLC with Code8?
Highlights of DevOpsLabs' Code8:
Comprehensive End-to-End (E2E) solution
Completely Configurable Package
Combination of Paid and Open Source Tools
Real-time SDLC insights at C-suite level
Enables control gates to produce quality software
Reduces lead time to get started with DevOps
Code8 lets you focus on your core – 'Application Development'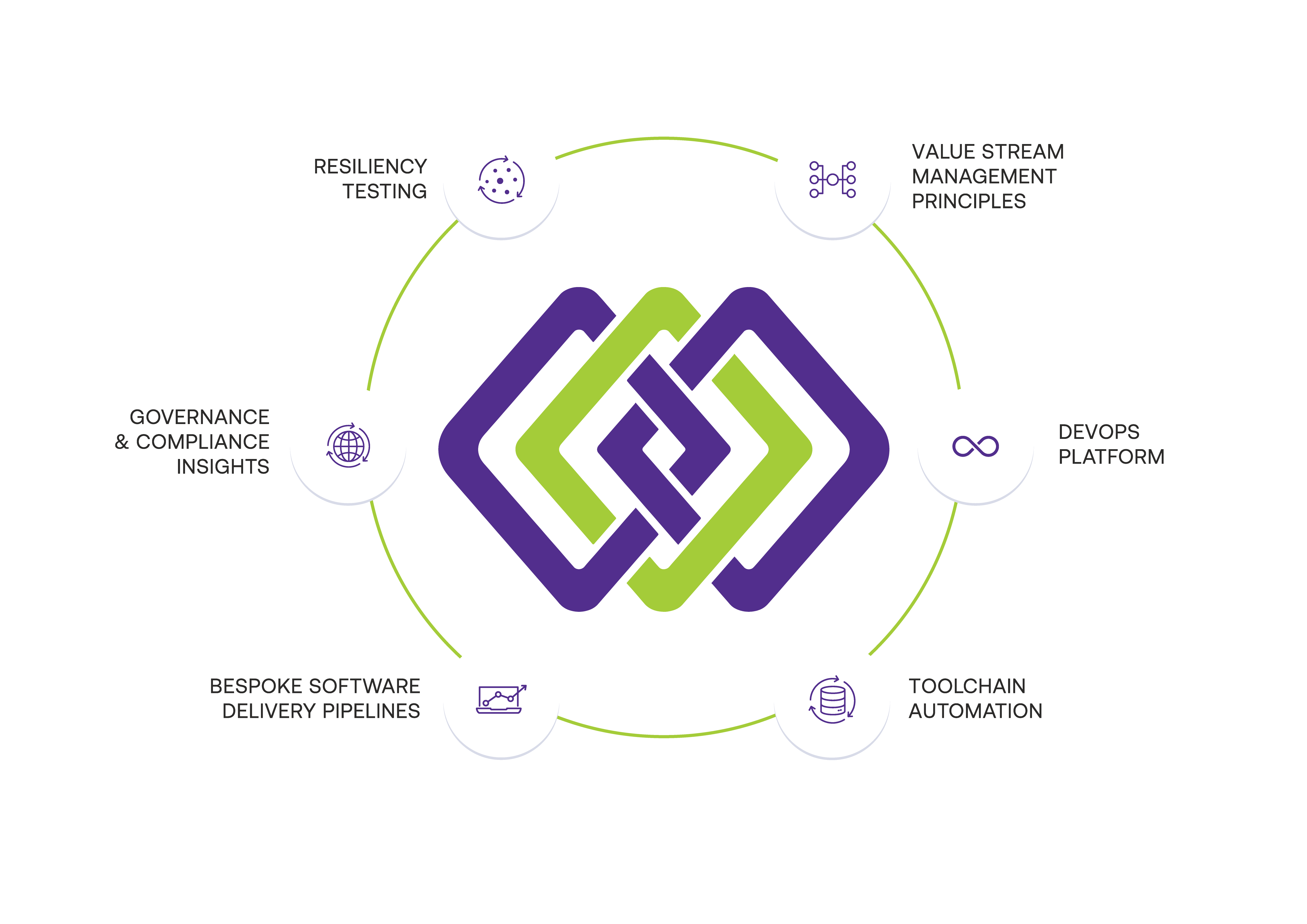 Other Salient Benefits of Code8 for DevOps Teams:
Simplifies effort with reference to environment, delivery pipelines, version
Allows focus on developing business functionality
Zero Investment on management of DevOps Environment
Faster response to business changes
Efficient delivery of Software Changes
Check how you can accelerate your Digital Transformation with Code8 - Software Delivery Platform
Compliance
How Code8 enables Compliance?
Code8 provides security, unified access, control and governance of the SDLC. It also enables management of artifacts, CI/CD pipelines and compliance tracking. Code8 creates and helps adhere to internal and regulatory compliance requirements by creating a holistic framework.
Key Highlights:
SDLC level
Ensuring Continuous Compliance across the DevOps Pipeline
DevOps tool level
Managing tool level compliance such as privileged access management, certificate expiry and PII detection
Business application level
Providing insights on security compliance conformance
posture.
Efficiency
How Code8 enables Efficiency?
Code8 comes with no upfront costs. It works on a pay-per-use model depending on the number of applications, the DevOps tools used, and the duration required to complete your releases
Key Highlights:
Reduces your time to the market
Reduces cost of adoption of DevOps
Reduce Complexity in DevOps
Reduces Strain and Risks in your DevOps
Integrated and Secured Environment
24*7 Support for your DevOps Team
Improve Throughput with same Resources
Enables focus on Business Critical Development
Resiliency
How Code8 enables Resiliency?
Code8 provides an effective, well-rounded chaos testing toolkit to help you test resiliency and fault tolerance in a variety of real-world scenarios on applications deployed in a production environment.
Key Highlights:
Enables Ability to customise and design experiments
Quickly Solve Issues in Development
Improves Application Resilience by Chaos Testing Product
Observability
How Code8 enables Observability?
Code8 helps tracking and management of the entire software development lifecycle with a satellite view of every detail across the DevOps streams
Key Highlights:
Smart Integrations and Dashboard
Enhances Collaboration between your Teams
Better Control on Continuous Delivery cycles
Improves Quality and Security
Better Visualisation with Powerful Analysis